TICKETING INFORMATION
Only a limited number of tickets for the general public are available for this year's Snake Gully Cup Race Day (Friday 13th November) and Hair of the Dog Race Day (Saturday 14th November 2020).
These events are fully ticketed and Patrons will be allocated a seat for the day, in a designated area. Patrons will not be able to enter other sections of seating areas. You can put together a table of up to 10 people (enter the table name when purchasing your online tickets).
Please note: Tickets will not be available for purchase at the gate.
Tickets for the general public must be purchased prior. Members must register their intention to attend and provide the name of their invited guest (1 guest per member) – follows links below: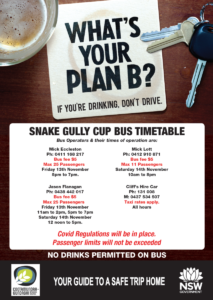 BUS CONTACTS & TIMES OF OPERATION (2020)